Sightings 2001/2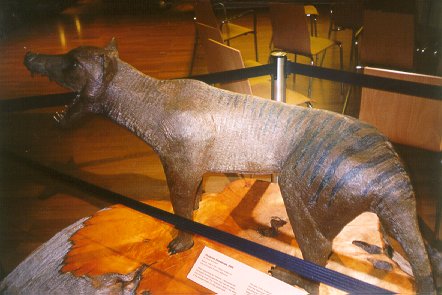 Bronze statue - courtesy Melbourne Museum
9th May 2001
Lance B. and his son from Queensland on a visit to some relatives in Gippsland, saw a thylacine on the edge of the main road at 2.00pm and in clear daylight eating a rabbit roadkill. The animal remained in view long enough for Lance to drive past and to turn his vehicle around. He claimed to have kept the animal in view for between 6-7 minutes as he crept up slowly in his car. Asked how close did he actually get. Lance replied "About the width of the road. We could see the stripes on its back the tail and all! It was about the size of a medium dog."
Asked what happened as he got near the animal. Lance replied "It picked up the carcass and trotted into the bush. We got out of the car and followed it in. We reckon that it went into a den or lair that we discovered." Asked whether the den or lair was fresh, he said "It had fresh footprints around it and I'm positive that it had been frequently used." Asked, how big was the lair? Lance replied , "About twice the size of a wombat burrow!"

This brought enormous excitement for both Myself and Aaron who visited the site on Saturday July 30th. We left home at 11am arrived at the site at 3pm only to find that the lair or den that Lance had mentioned was merely a couple of old wombat burrows. They even had cobwebs, leaves and sticks down them that indicated that they had not been used for some time. We left the area at 7pm arriving home at 11pm following 8 hours of driving and 550 kilometres of travel. What a waste! I will never do that again without the cameras or gear!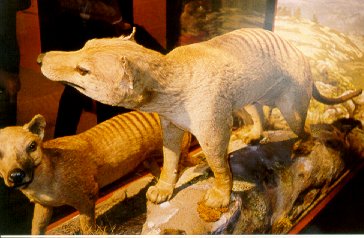 Image of two preserved thylacines courtesy of Melbourne Museum

30th July 2001
Jan F who has a holiday camp in the area made contact with us and mentioned that she had recently erected some new huts at the rear of her camping grounds. One night a couple of the campers were sleeping in an unfinished hut and had an open fire going outside. The front door was left open to allow the heat from the fire to enter the hut. Around 10pm an animal stood at the door way growled at them a number of times before departing. In the flickering of the light they could see a stiff tail dragging behind and as it sauntered off it walked in a peculiar manner.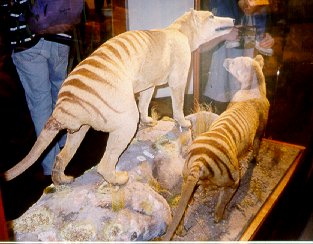 Image of two preserved thylacines courtesy of Melbourne Museum
19th July 2001
Lana B. On her early morning rounds to pick up mail for her work at the Post Office at 8.35am drove around the back of a swamp and saw a thylacine (a fairly old one) cross the road approximately 20 metres in front of her vehicle as she drove along. It raced into some thick scrub. Returning home she quickly told her father who went to the area to investigate but the animal could not be found.

29th August 2001
Lindsay D.
Hi Murray, Just wondering if you are interested in a possible thylacine sighting in Gippsland last Friday. I found your site while searching for info on thylacines, as I became a bit interested after what I could say was a definite likeness. I have spent a lot of time travelling in the mountainous regions of Victoria and have never seen an animal like this one. If you would like more info, I'd be happy to respond, did not feel like filling out your form with all my info. The sighting occurred on the Mt. St. Gwinear Rd. above the Thompson dam (700m above sea level) on the edge of the Mt. BawBaw plateau (east). We had been skiing for the day and were about one third the way down the road when we sighted it (my wife also saw it clearly). We were below the snow line although snow had fallen lower down than sighting spot during the week. I'd say we had about 7 to 10 seconds of viewing. It was about 2.40pm and a sunny day but the bush and tall trees casted a shadows but I would still consider it a clear uninterrupted view. (My wife and I are both in our 40's) I thought at first it was a feral cat because I focussed on the stripes which were only at the back of the animal (but it was much bigger than a cat), I also noticed the tail was longish, thick at the body and tapered, then I looked at the head and it had long jaws and was darkish in colour. We were in the car about one third the way down the mountain when we came around a corner and there it was standing on the road facing across-ways like profile so we had a real good look at it from about 25-30 metres. It moved off up an embankment as we approached - which was about the time I recognised it. I stopped the car and looked up to see it again from the rear this time only really seeing the tail - it kept going into the bush, so I did not get another good look at it. I've attached a drawing of a thylacine that I found on a site somewhere, the colours of the one we saw are very close to this image although it was darker (deeper grey/green) in colour with dark stripes and not like the ones on some Tasmania web sites that are tan/brownish colour. So that's about it. As I mentioned, I've spent a lot of time in the mountains of Vic. bush walking, xc-skiing and a lot of time surfing and bush walking coastal regions, I seen a lot of native animals but nothing like this. If you've got any specific questions, then ask away! I agree they ARE out there, I had never seen one before (only pictures) but I never doubted they still exist, their camouflage is so good I'm not surprised no-one has been able to photograph one. Even when I saw this one from about 5m away (as it retreated into the bush, it was virtually unrecognisable from the rear. I read some of the accounts on your site, some sound quite convincing but others like the woman with the film still in the camera has got to be doubtful. And the one with the video camera with a flat battery, they were out looking for it, you'd think they would have taken a spare battery!! It's hard to believe there are so many accounts of sightings and very little supporting photos.

2nd October 2001
Robert H. Location: Between Orbost and Club Terrace turn off South side of highway on edge of clearing on highway. Time: around 5pm overcast: Distance: 40 metres duration: 5 seconds description: size of greyhound, kangaroo like tail, dark grey body with light saddle, dark stripes through saddle, Hyena like face and ears. I made the sighting when driving towards Orbost and have no doubt that what I saw was a tassie tiger.

5th October 2001
Garry and Sally H.
Dear Murray, Excellent site! I tried to submit our sighting of an unusual animal about 3 to 4 Kilometres from Loch Sport on the left side of the road. My wife and I both saw this dog like animal at about 7.45 pm. It was quite dark but we followed it along the edge of the scrub for about 200 metres .It did not seem terribly timid, but eventually disappeared into the bush as I kept turning my headlights toward it to try to get a photo, before the flash could come on it had gone. We have both seen too many foxes to mistake it for one, nor was it a large cat. It was a greyish colour, but we could not see any distinctive markings on it. Hope this is of use to you. ( aged 50+, and sober) There was also an article in the Loch Sport Link a month or so ago about a chap who was coming into Lockie and said he saw a large water buffalo? There are some strange creatures hiding in that dense bush. It is certainly a hard task to track anything in that sort of country. We have seen several deer almost at the Golf club which is wonderful. Good luck with your search. will let you know if we see any other critters. Garry.

October 2001
Alan B. Location: Dargo Road, Briagolong Time: (approx) 7pm night: Distance: 10mtrs duration: 8 seconds description: Myself and my 11 y/o son were driving into Maffra to attend a meeting. As we were driving an animal slowly came out of the paddock on our right. It was clearly in the headlights of the car but turned its head away from the car lights. My son turned to me and said "what the hell was that" It didn't appear as orange looking as the one in your photo but the big hind quarters and narrowing stripes were clear to see. The spot where we experienced the sighting was grazing land on either side of the road. The animal crossed from our right to left. About 300 mtrs to the right of the spot where the animal crossed is the Freestone Creek. And about 300mtrs to the rear of my car is still sort of grazing but also quite bushy. The Freestone Creek runs parallel with this road and comes down from the Dargo area. The town of Briagolong is about 3klms further on than the sighting. Briagolong is always spoken of as "in the foothills of the Great Divide" Its another story but I have also sighted a puma style black cat on our property here about 9 years ago. But that is probably not your area of interest. (honest)

18th November 2001
Craig & Karen B. Location: Grand Ridge Rd approx 20kms from Boolara Township Melway 528 D8 Time: 16:45 clear: late afternoon distance: 50meters duration: 20seconds description: Definitely not a cat or dog. Same size as fox but definitely had stripes on hind quarters and tail. Animal Tan in colour with dark brown stripes.

2002 Sightings

10th Jan 2002
Dr. Don W.
Having seen and read material recently about the 'tiger', for what it is worth, I had until recently a farm East of Adelaide near Monarto before the Murray flats on the way to Murray Bridge. About a year ago I was checking troughs and there was a carcass lying near one of them. I recall the distinctive stripe markings on the back and I did think of the possibility that it could be a tiger but then concluded the unlikeliness of this and the fact that there were probably other animals that may have the stripes. I remember thinking that it did not look feline and was more canine but was about as big as a big cat, certainly not as big as a large dog. I have sold the property since but I guess the skeleton may still be there after a year. Pity this publicity was now and not then because I could have dumped it in the Pajero and taken it down to Monarto Zoo for identification. I just remember the stripes across the back and concluding that it wasn't wallaby but looked canine - it was really lurched over as well (very bent in the back). We had quite a dry summer last year and some of the neighbours put out fox baits - in fact, come to think of it, I think I concluded it was a fox but was surprised by the markings. Anyway, I can stop talking about it now that someone else knows about it.
Expedition 11 - Friday January 11 - Thursday January 17 2002
We arrived late on the Friday evening into our search area and settled down for a sleep at 11.30pm. Upon waking I asked my second youngest son, Callum how well he had slept in the vehicle. I was surprised when he stated, " I had slept well! But I woke early before the sun had risen and saw 3 dog like animals approximately 40 metres away from our vehicle".
Not fully sure whether to believe Callum or not, I then chose to ask him some further questions to validate his claim. "Do you think that they were Tasmanian Tigers?" I asked. "Yes" he replied. "How big were they?" "About this high" he said, holding his hand at waist height. This surprised me. "So you don't think that they were foxes?" "No they were allot bigger" he replied. "How long were you watching them?" Amazingly he said, "for about 5 minutes". I couldn't believe that he could have such a sighting and not wake me but he said that he never thought about doing that at the time. "What happened when you were watching them?" "They were running around chasing each other on the grass" Callum replied. "Could you see their tails?" "Yeah I could see their tails, they were very long!" "Did they have stripes on them?" "I couldn't tell it was still dark and all that I could see was these dog like shadows running around" he said. "Well what happened in the end?" I asked. "Well I went to open the window to get a better look and as soon as the window went 'click' they were gone!"
Half believing what he saw we dressed and for about an hour walked around some of the areas where we had previously seen them in search of any fresh evidence of their existence. There was no real evidence and I suggested that we not set our video camera's up in the area that we were currently looking, but instead take them further up the road to a spot that both Aaron and myself had identified as to where they (the thylacines) might be.

Our First Sighting In 2 Years (Saturday 12th January 2002)
We drove some 2 - 3 kms up the road and then pulled in to an area of relatively open bracken fern, banksia tree and tee tree. I told Callum about a track that I reckon would be ideal to set our cameras along, and we made our way across the grassed area towards it. We started walking along the track in search of ideal spots to place our equipment.
We had not gone more than 50 metres along the trail when to my complete amazement we observed 3 Tasmanian Tigers sitting on the track exactly 30 paces ahead (we measured this afterwards). These incredibly must have been the same ones that Callum had observed earlier in the morning, and were now sunning themselves on the track. It was pointless getting the camera out for as soon as they observed our presence the larger male rose up onto his front legs in a sitting position and the other two 3/4 grown animals, no doubt a female and her almost adult young raced either side of the track (one left and one right) into the thicker scrub. The larger male surprisingly sat and stared at us for 5 - 10 seconds. Both Callum and myself remained stationary unsure whether to move forward or back. As I had not seen a Thylacine for quite a while chose to observe as much of his features as possible.
He had a very wolf like head and I can now appreciate why the Early Settlers called them Marsupial Wolves, It was very thick set and gave me the appearance of almost an Alsatian Dog. At the end of the sighting he rose to his feet and leapt into the scrub alongside as the other 2 had. The most striking thing that occurred next was that approximately 5 seconds after he departed we heard this penetrating "Ruff" as if a warning call for us to keep away. The sound was difficult to describe but when we played the video tape of the "Tasmanian Tiger - The definitive documentary 1996" it was identical to the tape recordings made by Trudy Richards in the program.

This sighting was fantastic in itself and we elected to place the cameras in position right where we had seen them. Unfortunately for us after 6 nights of hard work we did not achieve video footage of any significant wildlife let alone a Tasmanian Tiger. We did however see clear evidence of their footprints along some sandy loam Fire Escape tracks unfortunately well away from where our camera's were placed. They obviously felt threatened by our intrusion into their area and had chosen to 'clear out' so that we wouldn't see them again.
In summary I'm looking forward to my next expedition around Easter where by I will hopefully learn a few more rules of the game that they play.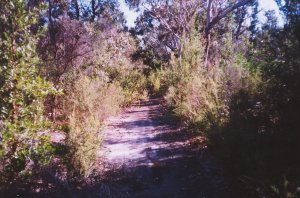 The track where the three thylacines were sunning themselves.
They were right in the centre of the photograph just behind the vegetation that covers the path!


February 2002
Reg Baldwin (dec) and Lana B. 10.30 a.m.
Driving along a major roadway in Gippsland with some overseas tourists saw a thylacine move off the roadway and into scrubland as they approached a crest on a raised section of road.

Wednesday March 6th 2002
Lana B.
Whilst on her way home from work at approx 11.30 p.m. saw a young thylacine cross the roadway some 20 - 30 metres in front of her vehicle as she drove along. Pulling the car up and doing a U Turn she drove back towards the spot where the animal had crossed. She knew that it had gone into a nearby housing block and drove into the first. It wasn't there so she reversed the car and drove up to the next. Caught in her car headlights was the young thylacine with its back to her some 10 - 15 metres away.
"I could see the tail, its stripes and everything. My heart was pounding with excitement, just as it was when I saw my first one years ago!" she said. "And the tail it was very long, words cannot describe how long". "I would have had it in my sights for over 10 seconds and even if I had a camera I don't think that the would have been able to show much. In the end it sauntered off into some bushes out of view".

Lana has been fortunate to have had at least 8 sightings of the animal over the years and I have no reason to doubt the creditability of this recent sighting. The fact that the sighting has occurred at this period of time is very encouraging for my Easter expedition.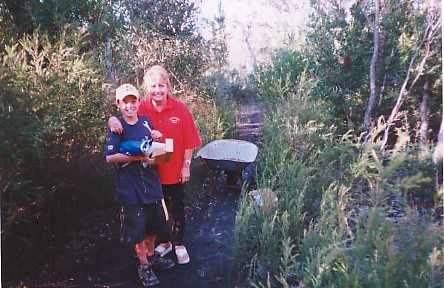 Callum and Lana (Easter 2002) near the spot
where we saw the thylacines (Expedition 11) in January 2002.

February 2002- Wilsons Prom. Victoria
Dear Murray,
It appears the sightings just keep coming in South Gippie and from a wide ranging swathe of countryside. It amazes me that no one has succeeded in getting firm evidence so far as this has been going on for donkey's years. Maybe you'll be the one to do it, I hope so.

Col Bailey on a report that he has received

The Prom sighting;
Michael R. and his wife Elizabeth together with their daughter Leonie of Melbourne were travelling out of Wilson's Promontory National Park after visiting Tidal River. They had not long driven past the Whisky Bay turnoff, and before reaching the more open spaces of the airstrip section, when Michael and Leonie observed an animal cross the road ahead of them from left to right. It was medium dog sized bearing dark stripes on a grey to pale yellow coat.

Elizabeth was looking elsewhere at the time and did not see the animal. The sighting only lasted some 4-5 seconds but made a lasting impression on them both father and daughter concluded it could have been nothing other than a Tasmanian tiger. Their sighting took place in broad daylight on a clear day.

23rd February-2002- Judbury Tasmania
Graeme P. aged 51 along with his wife Petra, whilst traveling in his vehicle 5 kilometres along a track to Lake Skinner near Judbury Tasmania. At 11.30 am and at a distance of approximately 100 metres and for a duration of 20 seconds Graeme detailed the following account:-

The animal was the size of a large dog , I couldn't make out the stripes, but the way it walked was unlike a dog and very much like the footage I had seen of the Tasmanian Tiger. It also had a very distinctive head exactly like the tiger. The animal didn't run away but strolled into the undergrowth.

Sorry we didn't stop to see if any footprints were present as we were hurrying to Lake skinner to fly-fish.
I felt totally speechless I frantically pointed at the windscreen , trying to draw my wife's attention to the animal, but unfortunately she thought there was something wrong with me, looking at me and shouting "WHAT ?, WHAT'S WRONG? "

She missed seeing the tiger by a millisecond if there is such a thing., much to her absolute disappointment!
Hope this help's, if I can help further please don't hesitate to email me.

Graeme and Petra P.
Expedition 12 Easter 2002
We had had nothing but frustration for the entire week of our research the video cameras failed to pick up anything despite all of the baits that we were using as a lure. We decided to move these for the final nights filming to an area 3 kms away. We woke on our final morning at 7am. It was bright and sunny with clear skies. we went out to the site and were totally disappointed and frustrated by the fact that nothing had come near the camera. We packed up and loaded the gear into the vehicle and drove back towards town to farewell some of our friends. Driving down the road at a slow speed I could not believe my eyes, 40 metres ahead of the vehicle I could see a small tassie tiger coming out of the scrub on the left of the roadway. "Quick! Look! Look! I screamed to Callum and Aaron sitting despondently beside me, "A Tassie Tiger!" we saw it bolt straight across the road in front of us and then continue across to the vegetation on the right. He was only small but boy he was moving quick. I pulled up the vehicle. Aaron jumped out with the video camera in hand and raced off into the bush after him. When he returned he said "I got within 15 meters of him and I could see his tail and stripes but as soon as he saw me he took off again. I had no hope!"
It is unbelievable that here we were during the last hour of our expedition and the animal had crossed the road only 300 meters up from our previous research camera site. How frustrating!

21st April 2002 - Shady Creek Victoria
Matthew M. aged 71 at 1pm on April 21st and at a distance of approximately 70 metres had for a brief 5 second glimpse of a thylacine. He submitted the following report of his sighting:-
Very difficult to give you an accurate description, I was with my daughter Catherine 40 YO when we saw it, I thought it was a wild dog but Catherine said not as it had stripes, she said it had pointed ears.

We came to the top of a rise where some dog wood scrub had been cleared and it came out into the open, saw us and immediately bounded away. I own the property and get down very infrequently, it is remote but there is a house nearby but well shielded from the spot where we saw the animal. It was 1.5 metres in length, the animal had black and grey strips on the body, with loping strides.

Matt. M.

April 2002 - Ferny Hills Queensland
Vanessa C. aged 49 whilst driving in her vehicle at approximately 9pm at night along a road approaching a T intersection. For a period of 1-2 minutes Vanessa claims to have seen a thylacine. She submitted the following report:-
There was an area of bushland which is slowly being built out and developed as a housing estate, by the houses there is a rubbish dump, dingoes are seen quite often, and hybrids.
I was coming to the top of a street to a T junction, when you stop there is bush opposite. My headlights hit this tan coloured animal. I think that it looked smaller than a dingo, but the two things that made me stare at it was, the tail, which was straight and followed straight out from it spine and the stripes on its body from its shoulders back to the beginning of the tail thickness.

It was walking briskly not running. It's head looked unlike a dogs head, and it had a slender looking body. I watched it till I had to turn left and it was going in the same direction as me, but on the edge off the bush line, and not to close to the road edge I eventually turned off and headed home.
18th May Coldstream - Victoria
Brian D. aged 30 at lunch time and at a distance of approximately 25 meteres. Had a sighting of what he claims was a thylacine for a almost 25 seconds. He submitted the following brief report:-
It had a long tail and dark stripes on its back. It was very skinny and long snout. It was yellow dog like and I'm sure that it wasn't a fox!

Marc S. had the following encounter on Sunday 9th June 2002 Queens Birthday weekend along the Point Addis Rd ( Point Addis ) off the Great Ocean Road between Bells
Beach and Anglesea.
It was Early morning; about 8:00am; very chilly, clear (not raining or foggy)
The area consisted of very dense coastal bush; the area is thick with kangaroos,
wallabys, rabbits, etc.; close to farmland.
At closest range I was able to get within about 4 metres of the animal; good side-on view at about 6 metres.
Time Duration: about 60 seconds but it's hard to judge when you're in shock !
While driving south down the Point Addis road towards the point, through bushland, a large grey kangaroo startled me as it leapt from the roadside bush onto the road. The road is winding and steep at this point so I wasn't travelling very fast, and I pulled over. The roo did a quick turn and bound off down the road a way, then back into the bush on the same side of the road that it had appeared from.
Seconds later a very small black wallaby came bounding out of the bush about 4 - 5 metres south of where the big roo had appeared and right opposite my car. The wallaby didn't stop, it hopped across the road and dived into the bush in front of my car. Then another animal came crashing through the bush. It came out onto the road shoulder and noticed me, skidding to a halt. It stood there panting for a few seconds, then turned south for about 2 metres then stopped and turned back to look at me. I was totally frozen at this stage ! It kept loping down the
road shoulder for a metre or two then went back into the bush. I was too petrified to go and look because this animal had huge teeth and was about 150cm long just in the body ! The tail was about another 90 - 100cms.
I feel completely sure that it was a Thylacine because of the really big jaw ( it was panting heavily ) and the odd looking down-sloping hind quarters. The back and rump were darker than the front of the body but I could still see the stripes, and the tail stuck straight out, following the line of the spine. It didn't trot like a dog, but "loped" like a cat. I think I spoiled its morning
hunt and it wasn't too happy.
I totally forgot about going surfing, did a U turn and went back to Torquay... I was pretty shaken. I didn't think to look for footprints, and I didn't have a camera. I can still remember it very clearly as being exactly like the pictures I've seen, but much bigger. What shocked me most was that I thought they were restricted to Tasmania. Someone suggested to me that it might have been a dog ( an Alsatian ? ) but it definately wasn't ! I've been bushwalking in this area all my life ( the Pt Addis walking track is quite famous ) but I've never, ever seen anything so startling.
Thanks...

Marc S.

13th August Gippsland
Lana B. whilst driving along a major road near Longford at 1.00pm during the day had the following experience.
"I was approximately 500 metres from a turn off intersection when I saw a large tan animal on the right hand side of the road. It was some 30-40 metres ahead of the vehicle and it ran on to the road in front of me. I had to brake hard to avoid hitting the animal and it was right up close to the front bonnet. He was a magnificent creature with a shiny coat, I could see his stripes and the tail was hanging downward. As the car pulled up to a halt he turned and continue to run through to the bushes on the left hand side of the road. My heart was racing and I thought to myself what in the hell would I do if I had hit or killed the animal all the way home! He really looked like a healthy specimen a large male!"

1st of October 2002 Lana B. and Irene B.
Traveling 50 meters behind another vehicle along a straight stretch of road approximately 12 kms from our expedition 13 research site Lana detailed the following account.
"I had seen the kangaroo 'roadkill' on the way out it was a 'fresh one' and it was more towards the centre of the road. Someone had obviously stopped at some stage and moved it to the edge! As we followed the vehicle in front we could see the animal at the carcass. The people in the front vehicle should have had a great sighting of him because he stayed there as they passed! As we approached he took off sideways towards the vegetation on the left. He wasn't very big (about a medium sized animal) but we could see all of his stripes and the tail was hanging down. Once again his coat was a dark tan color similar to the one that crossed in front of my car in August".

Lana waved us down in our vehicle at 1.30pm and we raced out to the site. The Kangaroo carcass was headless! We sat in the vehicle some 40 metres away hoping that he may come back and that we might obtain some video footage but after 1 hour and a half realised that he had obtained his meal and that he would not return. We picked up the carcass an took it to our research site hoping that it might attract another hungry thylacine into the area but this proved to be unsuccessful.